The other day I overheard someone asking a question about a bucket list. One person asked another one if they have it. The reply was: "What do you mean by 'bucket list'?" The explanation followed: "If you knew you only had one week to live, what would you do? If You Were Told You Were Going To Die On Sunday And Today Was Monday, What Would You spend your time on and with whom?"
That really made me think. What would I do? Who would I spend my last days with? Well, I definitely would want to spend it with my family. I would want to have as much fun as it is humanly possible in one week.
But doing what?!
What do I want to do that I was never brave enough for? What did I think was an amazing thing or activity that I will definitely do one day? What did I think is an awesome and/or opening experience, but I'm just not ready for?
These are the top activities that came to my mind:
Sky Diving
Hang Gliding
Flying a helicopter
Parasailing
Snow mobile rides
ATV biking in Hawaii
Yacht trip with jet skis on board
Speed boats
Take Hallucinogenic mind-opening drug (obviously not a family activity 🙂 )
By writing these things down, has helped me realize that I have a need for speed and flying. 🙂 At least I'm consistent in my subconscious mind. Out of listed activities above I did parasailing, jet skis, and ATV biking in Hawaii, but I would definitely do that again, especially with my kids.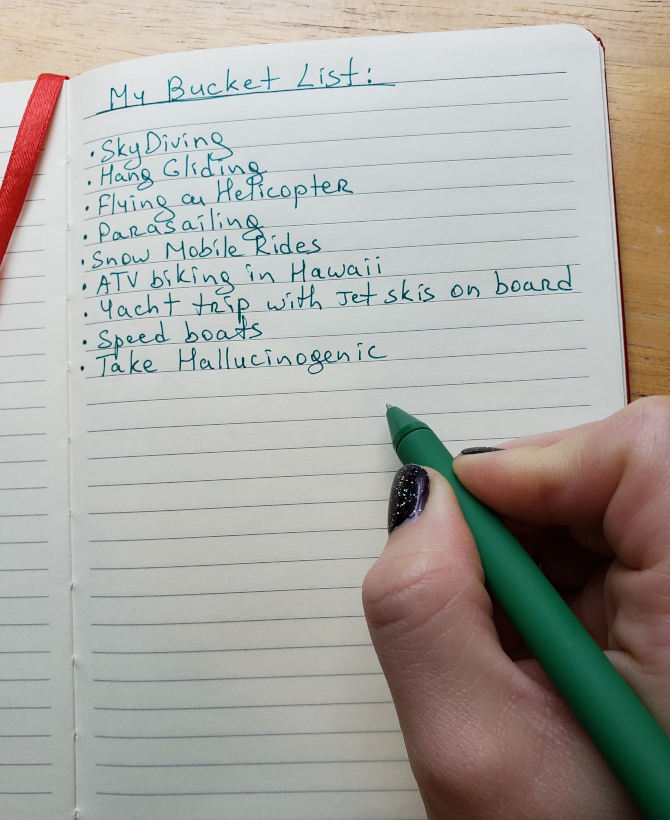 And when I started digging deeper in my mind, I have realized that I have an urge to feel free like a bird. No wonder I love the song 'Free Bird' by Lynyrd Skynyrd. ?
So, why haven't I done most of those activities? What has stopped me? Do I really need to find out that I have 1 week left to live to take action and make it real?
Reading my list over and over, I still wasn't sure about taking hallucinogens, even though I would like to reach that open and limitless state of mind. But the rest should be a no brainer. Pick one activity, schedule and make it real.
So to answer my question as to why haven't I done them, the first thing that popped into my mind was: 'Because you have never created a bucket list. Because you were not even aware that you wanted to do those things."
I envy those people who are active, taking trips not just during their vacation, but on a regular basis. And to be completely honest, when I'm looking at these people, I tell myself that they probably have an easier life than me, that they don't have to work as much, that they have house help…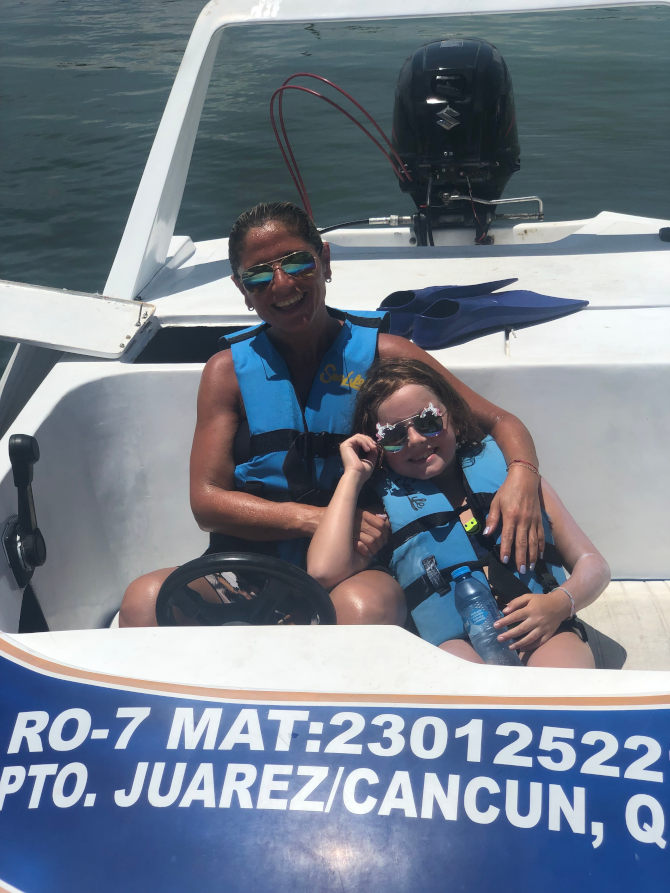 I have realized that I have created my own limitations by telling myself that I'm too busy, and there is no available time for activities. So instead of living every day and enjoying life, I'm living from one vacation to the next.
Well, it's time to change! And change has already started, since I have admitted honestly to myself what the issues are and what needs to be corrected. As Awareness is the first step to our transformation.
This list probably should not be a once in a lifetime list that you create and then are trying to experience things from it. I think we should revisit our bucket list at least once a year and modify it accordingly.
I have a plan. And I know I will follow through. I'm not promising to move too quickly… ? But I will start experiencing and enjoying life!!!
What about you? Are you living and experiencing your life? Do you have a bucket list? If not – create one.
Let's explore this journey together.